Find and replace
{{ info }}
Order text

A free service for automatically searching for exact matches of specified words, phrases or text fragments and replacing them with the desired words with one click.
This program is especially suitable for working with large text. Its maximum size is not limited by the service. The limit on the number of characters you can enter comes down to the power of your computer.
Instructions for use.
If you need to find matches in the text:
Copy the text and paste it into the program field.
Enter the search term in the "Find" line.
Click the "Find" button.
If text replacement is required.
Copy the text and paste it into the program field.
Enter the search term in the "Find" line.
In the "Replace with" line, write the word or phrase to replace.
Click the "Replace" button.
This service makes it possible to refine the search query:
1. Case sensitive.
The standard settings provide for the search and replacement of all specified elements, case-insensitive.
For example, Textovod is equivalent to textovod.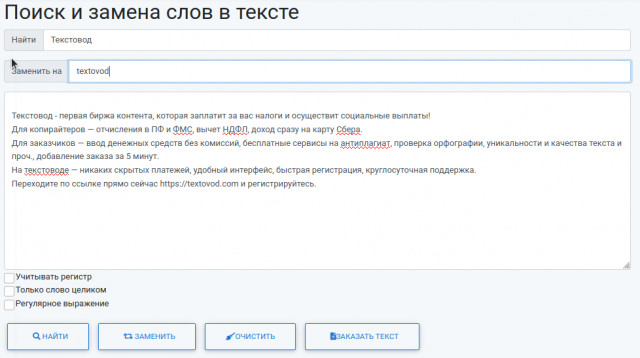 Replaced the word "Textovod" with "textovod" 2 times (Textovod and textovod).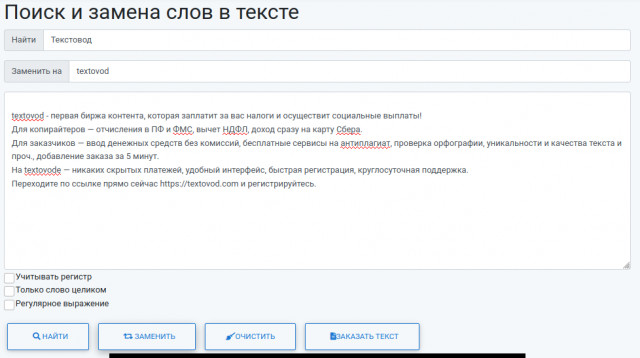 By activating the "Match case" option, the case becomes case sensitive and the search is carried out more accurately.
Accordingly, Textovod is no longer equal to textovod.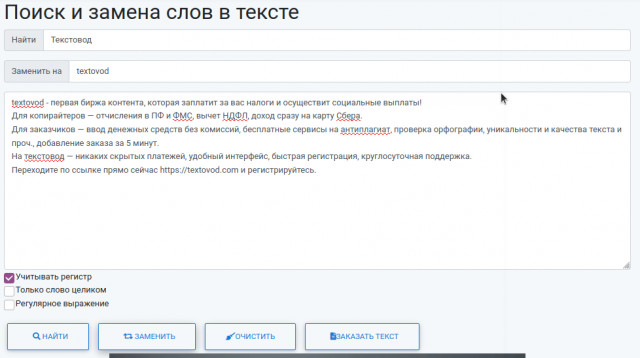 As you can see from the screenshot, only the word "Textovod ".
Whole word only.
Using this function, you can find or replace a complete word unchanged.
For example, searching for the word "text" is only equivalent to "text" and not equal to "TEXT", "TEXTS", etc.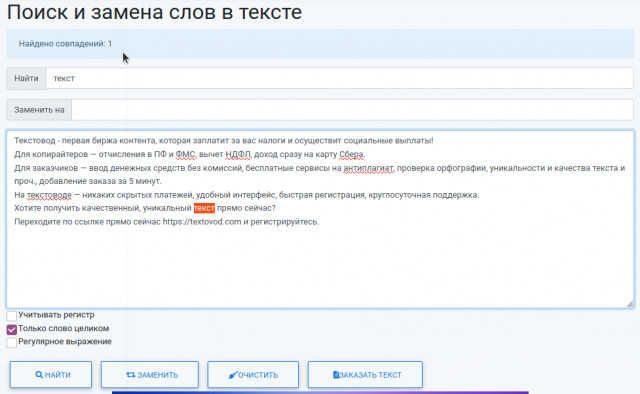 Regular expressions.
This is a powerful, flexible and efficient word processing tool used by almost all advanced users to easily find the pieces of text they need.
For work, universal templates are used, consisting of symbols and metacharacters. They are entered into the search bar and the service executes the programmed command.
Thus, the service for finding and replacing words in text on Textovod is a unique and effective tool when working with texts. This service will be the best assistant for both an ordinary user and a programmer.
Life hack: to copy the resulting text, use the keyboard shortcut Ctrl + A (select all text) and Ctrl + C (copy).